Two years ago, I set out alone to look for unheard stories and worthwhile projects. I had only a great deal of courage as my luggage.
No, that's not true. There was much more than that in my backpack. There was also desire, dreams, and many meetings and exchanges upstream.
Besides, if I had to choose a single word to define this journey, I would without hesitation say Discovery. MétamorFaiseurs went to the discovery of change. To the discovery of Makers (Faiseur.se.s) of course, to the discovery of world and finally to the discovery of myself. And behind all these discovery is a common denominator: the human!
To the discovery of Makers, aka the seed of humanity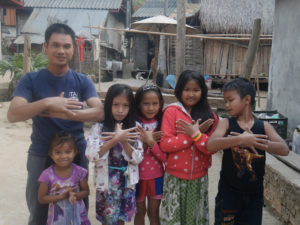 The  discovery of change is unquestionably all those makers who have opened their heart to me, who have offered me their time and who have shared with me some of their commitment. People of great humility who, in their own way, every day « color » the world; who in their own way, every day participate in making this world a better world, a world more just, more human, more responsible.
Then, there are also all these mediators whom I call "EntreFaiseur.se.s" and there were many … All these people who helped me somehow or other… who advised to me, who put me in touch with other mediators or makers, who welcomed me with open arms, who offered me their hospitality, their attention, their generosity.
But the human meeting is also all those people I met in the street, in a coffee shop, in a bus. Those people who smiled at me, who guided me, who amazed me. It is all this undeserved kindness, these simple, yet humane relationships. People from there but also people from other places, other travelers who you cross on the road and with whom you sometimes do a part of the way. Travelers who share this desire to change the world, to change the way we travel and we interact with people and nature.
From these exchanges come memorable and even magical travel experiences. I remember tea shared with villagers spontaneously. I remember shoes loaned (given) without hesitation by an unknown after mine disappeared at the foot of a temple. I remember this man, quietly sketching my portrait at a coffee shop and offering me the drawing by no other desire than to make me happy. I also remember this man helping me when I was caught in a riptide current. I see myself comforting my Thai host after her heart was broken. I see so many sweet eyes and friendly smiles. I am reminded of the passionate and fascinating discussions… Some moments of life, happenstances, beautiful coincidences… souls that connect. There would be so many more moments to share. This is just the beginning, the tip of an iceberg that emerges from this ocean of human adventures.
To the discovery of world – Profound travel experience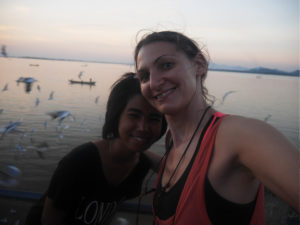 I wanted to give myself a little time to explore every country, to go around the cities, to go through the villages, to get lost in the mountains. It was not an ordinary tourist voyage, I have never favored the collection of sightseeings, I saw some on the path but the journey built itself, above all, around people whom I met and, always, with the will to promote a more responsible tourism.
The meeting with the world is this lush nature. It means taking the time to appreciate it, to contemplate it, to live it. I remember the sublime landscapes, endless stretches of land, majestic sunrises and sunsets, the flight of enchanting birds, the hatching of magical butterflies. The « Hatching » of nature… of pure beauty. Moments of freeze-frame. My experience at Mindfulfarm is certainly one of them.
The spontaneous journey gives way to discoveries, to beautiful surprises. I wanted to maintain a great freedom of movement. Of course, some meetings were planned in advance, but many also took place as the adventure unfolded, as I encountered others.
There have been some epic expeditions, rocky ascents, and a lot of indecisions and changes of plans. Losing one's way: it's perhaps the natural consequence of too much freedom. But the personal journey remains still interesting. That's the most important.
Then, thanks to the format of my trip, which mixed meetings and voluntary work, I had experiences that deeply touched me. I spoke in another article of my experience in the village of Sogale in Ivory Coast. There were also other overwhelming immersions like at MIEP (Mawlamyine, Myanmar), or when I was by Kee and Jin in the tiny village of Huay Bo (north of Laos). This community life makes it possible to see something else, to go a little further out of one's zone, to disorient a little more. For every one of these experiments, I was the lone stranger, cut off from the world, with no connection. And yet, a unique opportunity to connect to my hosts, to nature and also to reconnect to me.
To the discovery of Mo – towards the entrepreneurship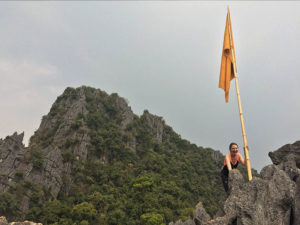 I have already written about the personal dimension of the journey, with a more introspective component in the article "Going to the End of the World to go to the End of Ourselves" (not translate yet).
This kind of trip (of extraordinary experiences) leads to a change in oneself, to a positive transformation, to a metamorphosis of our thoughts. Of course, all these encounters, all these experiences do not leave us unhanged, they mark us for life. They change us, they transform us, they even transcend us… They help us to grow.
This trip was an experience of immeasurable wealth, both editorial, human, and entrepreneurial. As with any project of this magnitude, there are moments of pride and doubt, moments of excitement and fear. You keep going from one to the other in this infinite emotional elevator.
From the first destinations, I had to come out of my shell and expose myself. As I mentioned earlier, this trip also gave me the opportunity to get involved in various projects or organizations. It was a way of seeing and doing other things, of getting involved, of going beyond myself, of getting out of my habits and trying to be helpful. My experiences were varied, but all of them enriched me and helped me overcome some fears.
Editorially, it was an ambitious project. I wasn't prepared enough. I made beginner mistakes. I have sometimes lacked confidence, but I took the plunge nevertheless and I have never given up. All of this made me aware of my limits and helped me to bypass them. It also made me aware of my strengths.
Today, I still have a lot of work to do to complete this documentary, but I feel ready to rise to the challenge. I want to go to the end of the project, to the end of myself but especially to the end of these stories. I would love to give them life.
On another note, even though I was already aware of sustainable development and the issues raised by my three themes (gender, environment, education), this journey opened my eyes to my way of life, my deep aspirations and my internal contradictions.
Emotional landing, rational commitment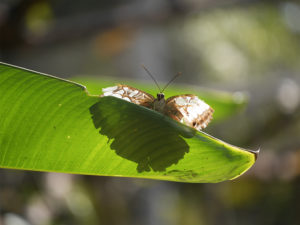 It took me a while to write this article. Time for retrospection, time to step back, time to let all these emotions dissolve. Then, time for introspection, to put words on emotions.
In fact, I was overwhelmed by a tsunami of emotions: enthusiasm, joy, anger, fear, sadness, doubt, tears… hope. The emotional landing, we are told… The landing was particularly long and poignant.
I've lived more than six incredible months. Out of time, out of space… out of myself. I have had the chance to meet people who are extra-ordinary (at once humbly ordinary and nobly exceptional), ready to reach out to me, and for some of them, ready to offer me their friendship, to open their soul.
I was the recipient of so much love and kindness that I did not always know how to repay it, how to contain it, how to assimilate it. It took me a while to realize and understand the meaning and power of everything I was going through.
The truth is that I could never have completed the journey without all this trust, love and support. It brought me into a momentum of motivation and determination. A big thank you to everyone.
I will never be able to impress upon you the power of this experience.e. I will never be able to make you EXPERIMENT it. The defining aspects were not filmed, photographed or engraved in these words. It hovers somewhere in the hearts, somewhere in the memories, somewhere in the air.
Instead, I hope to impart scraps of emotions, awareness, a momentum of small actions. I hope to inspire to be part of the change, to think that we can all be actor. To be both a protagonist of our life and a member of a more equal world. We all have this power in us, which waiting to be set free. As I like to say, we are not all made to be leaders, but we can all be Makers, and Makers have the power to change the world. We live in a world full of beauty: with its fauna, its flora, its people. These people who forget, these people who suffer, these people who fight, these people who hope. This is the world that we must quickly preserve. And as a French collective recently reminds, It's Still Time… Yes, it's still time to draw a more responsible outline!
It's the combination of butterfly and snowball effects. Each small gesture counts, and together they have more strength.