As a consequence of globalization and the advent of the Internet, being connected has become a real issue.
On the one hand, the digital area has changed our way of thinking and our way of interacting with each other. Education has to evolve in this new direction, taking into account new disciplines but above all new tools and new ways to teach and learn.
On the second hand, while Internet gleans more and more time in our daily routine, and while we are more and more invaded by notifications of all kinds, a new necessity appears: the importance of putting things in perspective and being able to disconnect or rather to reconnect with ourselves.
Connected school: the end and the mean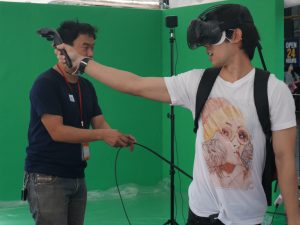 The school system has to face new problematics. First of all, there is the question of teaching these new disciplines to make people competent and competitive. But it also deals with using new technologies to improve the educational experience, such as using mooc, e-learning, e-book, reverse classes, iPads or social networks as an educational tool… It must be said Millenials have other expectations and the new generation will learn to swipe before they can even speak.
The Edtech is a topic in vogue in the last few years in many countries and Thailand is beginning to accord special attention to it. More and more startups and projects are developed to find new solutions even if Edtech startups may not seem as attractive and profitable as other sectors.
I met two of its protagonists during an event on « Education Tech » organized by FrenchTech Thailand: Paul Apivat Hanvongse and Kittikawin Cheecharem, alias Pong. These two speakers kindly accepted to meet me again a few days later to exchange ideas about my project and their vision of Edtech and more generally of education. Paul is the Director of New Product Development for Learn Education, a social enterprise which develops high quality learning content for pupils in Thailand. Pong is a Freelancer specialized in SEO – WordPress – Front end Web Development. He's passionate about Thailand Startup Ecosystem, especially in EdTech.
It was a beautiful coincidence to meet them at this event, because before that, I was already in touch with Paul thanks to a LinkedIn presentation about Edtech startups he wrote and while making my research, I also found another article written by Pong. 
Paul's article : Startup Thailand 2016: EdTech at a Glance
Pong's article : EdTech Startups in Thailand: Opportunity in Emerging Market
Augment teachers, focus on students
Both of them gave me an interesting perception that I'd like to summarize and share. What emerged from those two meetings is that school has to be interactive and up-to-date. School will necessarily change thanks to virtual and augmented reality, artificial intelligence, and machine learning. The ways of teaching will change but the purpose will be the same: to keep developing social skills, build communities and educate responsible citizens.
The traditional Thai education system is more based on learning by rote rather than on a deeper understanding of the process. New technologies have to be used to augment teachers and to adapt to the needs of pupils while the school has to focus on pupils and empower them, to make them become actors of their future.
And what is good about education and empowerment, is that it has no end, no borders, no limits. The only limit is the one we want to set, and to quote Pong:  « Learning is a continuous process, people don't stop growing, don't stop learning. It's something we pursue for the rest of our lives".
"Learn to read to read to learn" and being able to rewrite the codes and the rules of our society. Otherwise someone else will rewrite it for us. And finally as Paul told me the ultimate goal of education is to empower yourself but also others and being able to make an impact. Confucius said "I hear and I forget, I see and I remember, I do and I understand" and I will add to that, I make an impact and then I learn. The best way to learn about something or about someone is trying to change and making an impact." Pong shares the same vision: «Our goals in Edtech should always be in creating positive impact, not maximizing profit».
Reduce the educational gap
The main idea behind the Edtech is to train students in accordance with their reality. But one of the main issues of school and the use of technologies is reducing inequalities. In Thailand the quality of education is totally uneven, particularly in remote rural areas. The aim of Learn Education is exactly that "all students in Thailand have access to quality education to achieve academic excellence and become critical thinkers with good moral judgment."
Internet is a wonderful tool that can allow people to access to plenty of information and trainings for free or for little money but most of the time, if it's not well led, it would be the privilege of some autodidacts. And moreover as soon as someone, as a family or as a village, has no access to the Internet or no possibility to get computers or smartphones, then it's the beginning of important inequalities and the gap will just become bigger and bigger. While the Internet and the mobile penetration rate is good enough, there are still inequalities and the mission of the government should be to focus on that point: « Education for all and all for education ».
Digital media has a big potential in education for training and empowering students from everywhere, we just need to lead the process and to be sure that nobody will stay on the bench. School and more broadly education have to build bridges between people and to enable creativity, to provide the tools to make it happen, to make our dreams come true. Finally, new technologies are a mean to create real links, to be connected to our reality and to our time but keeping us connected with humanity and with ourselves.
The real connection: getting more in touch with our feelings
Sometimes, when being too connected and conditioned, we lose the connection with ourselves.
And as Einstein said « The school should always have as its aim that the young people leave it as a harmonious personality, not as a specialist ». And I'd like to insist about harmonious personality. Nowadays, we emphasize on performance and we forget about the stress, the burn-out or the boring-out that often come with. In the end, one of the crucial goals of education should be to allow each person to keep this harmony.
Thailand is well known for its mystic side and the relevance of religion, even if society is very contrasted and enfaces multiculturalism. Whether you are a believer or not, I think that the principles of simple happiness and mindfulness conveyed in Buddhism are something that we have to consider more closely.
One week at the Mindfulfarm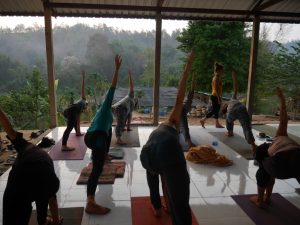 During my stay, I was very lucky to stay one week at the Mindfulfarm, founded by Pi Nan and his Japanese wife. The Mindfulfarm is an organic and vegan farm that welcomes volunteers from the entire world.
It was an extraordinary experience. During the day, we could help in the garden, by cooking, painting or building new infrastructure. We were also invited to help the villagers by collecting garlic or helping at the school. We learned about organic stuff and for example we did our own enzymes, and soya milk.
During this stay, I also discovered yoga and meditation. I mean, I did some yoga before but until now, I wasn't really appreciating it and I totally fell in love with it this week. Each morning at 6:30 am, I was very glad to wake up and to begin the day with Gigi's (a Spanish volunteer) yoga lessons. Since then, I continue doing yoga by myself almost every morning. Yoga is a very good way to start a day and to focus on myself, even if it's only for 20 mn when I do not have more time.
Concerning meditation, it was a total discovery. Every evening we had fifteen minutes of sitting meditation as an initiation, but it was very interesting. We also tried walking meditation once and it was one of my favorite moments. The sitting meditation was still difficult for me. I didn't really manage to stay focused. The walking meditation was a beautiful gift. The night was almost coming. The sky was electric blue, you know this particular and beautiful color when the sun has just gone down. There was a calm breeze blowing in the branches. I was amazed by the fireflies in the trees, the beauty of the nightfall and the sounds of nature. I could have meditated there for a long long time, enjoying the present moment.
And I haven't spoken yet about the incredible people I have met, the amazing food I have eaten, the stunning scenery I had in front of me, no I haven't spoken about it but nevertheless, it was a global experience which made this moment unique.
The Life Education
Pi Nan agreed to answer my questions. It was my chance to go deeper in this subject and have an intimate moment with him. Pi Nan was a monk before building his farm, and his nickname Pi Nan is the meaning of his past as a monk (Pi = brother, Nan = retire from monastery). And it's interesting to note that for men, the monastery is a very good option to get a good education. That's why a lot of them go to monasteries to study but don't remain monks in the end.
Pi Nan took time to explain to me his vision of life and education. For him, it's important to sow the seeds of mindfulness. «Mindfulness will bring us wisdom and wisdom will bring us freedom. » Whatever we do, it's a good thing to be conscious about it and to live in the present moment.
He gave me an interesting point of view, he spoke about « life education » as the end of sorrow in our mind. For him the real school is our planet, nature itself. We put children into boxes that we call schools but they are taken from Mother Nature and from life education. It reminds me of the principles of alternative schools or rather of unschooling, which advocate an university of life. Nature and life are fabulous training grounds that are often completely forgotten.
Mindfulness may also be a good instrument for teachers. While I was writing this article, I stumbled upon a Facebook advertisement about trainings to become a mindful teacher. I don't know if this training in particular is worth it but the concept is at least very interesting. Mindfulness as a tool to be a better teacher, mindfulness as a discipline, as a method to become a better human being.
This experience made me aware about the importance of taking time for ourselves, the importance of slow living and also of slow loving. Taking the time to breath and think about what we are and who we want to be. I get gently into the principles of mindfulness and I try to apply them as I can and find a balance between the expectations of society and my own aspirations.
 To conclude I'd like to share one of the « Pensée Z'Ailée » (Inspiring Thought) I wrote during my stay in Thailand: "The power of things, the importance to THINK". Things are material and secondary and their power may be an illusion. Being able to THINK by ourselves and being able to think of ourselves is the real point. And nobody will do it except us and it's not a question of individualism or egoism, it's quite the opposite. We'll be abler to love and do things for others if we feel in harmony with ourselves.
The goal of education should be keeping us connected to our time and to ourselves as responsible citizens.